EXPLORATION INTO THE DEEP BLUE (2019)
Designer: Shannon Teoh 
Client
Biology / School Project / Publication
Mediums
Typography, Graphics, Illustration, Editorial, Layout, Infographic
深海探検 (2019)
デザイナー シャノン・テオ 
クライアント
生物学 / 大学課題 / 製本

媒体
タイポグラフィ、グラフィック、イラスト、製本、
レイアウト
Synopsis / Introduction
A basic exercise to simplify 4 species of flora or fauna into symbol marks–step by step from research, multi-angle realistic sketches to graphics, all presented as accordion booklets compiled into a box. I chose deep sea animals as my theme–a childhood fascination of mine. A lot of this wonder stems from my time exploring children's encyclopaedias, which is considered when designing the pages– from using infographics to having scientific motifs. All of the booklets are then packaged like scientific documents in a mysterious folder-like box.
解説 / 紹介
生物を抽象化する課題-リサーチ。まず、選んだ生物をデッサンから段階的にグラフィックシンボルに変化させる。そして、四冊の蛇腹に製本し、箱にまとめる。子供の頃から、深海にロマンを持ったので、「深海生物」というテーマを選んだ。この興味は図鑑を読むことから生まれたものなので、レイアウトする時それを参考にし、生物科学ファイルのように仕上げた。
---
---
Each of the 4 booklets are done in different textures and shades of blue paper stock. This is applied according to the ocean depth that each specie dwell in.
四冊の蛇腹ごとに、それぞれの青色や紙質がある。それは、4種類の深海生物の生息する水深に比例し、選んだものだ。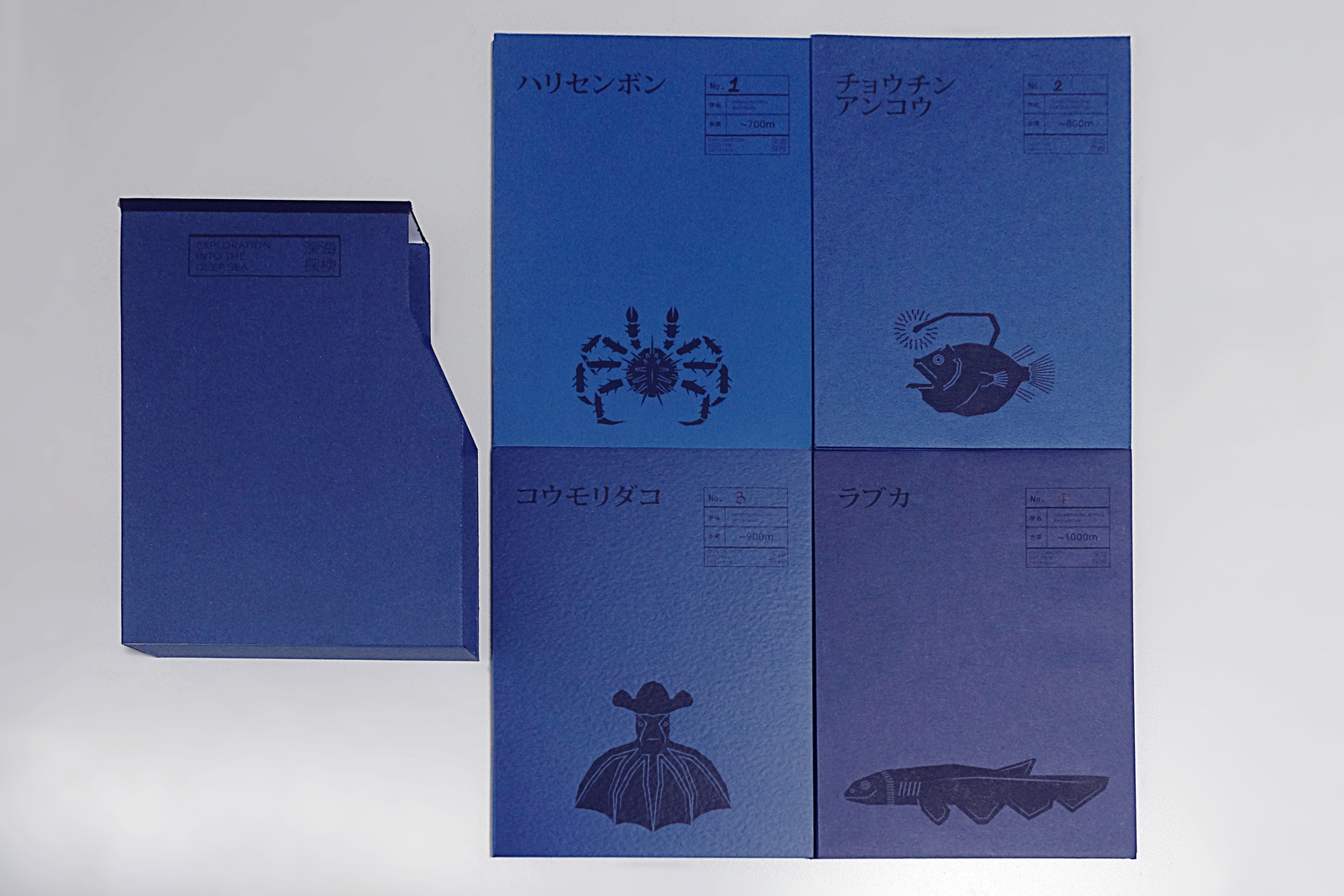 #1 Spiny King Crab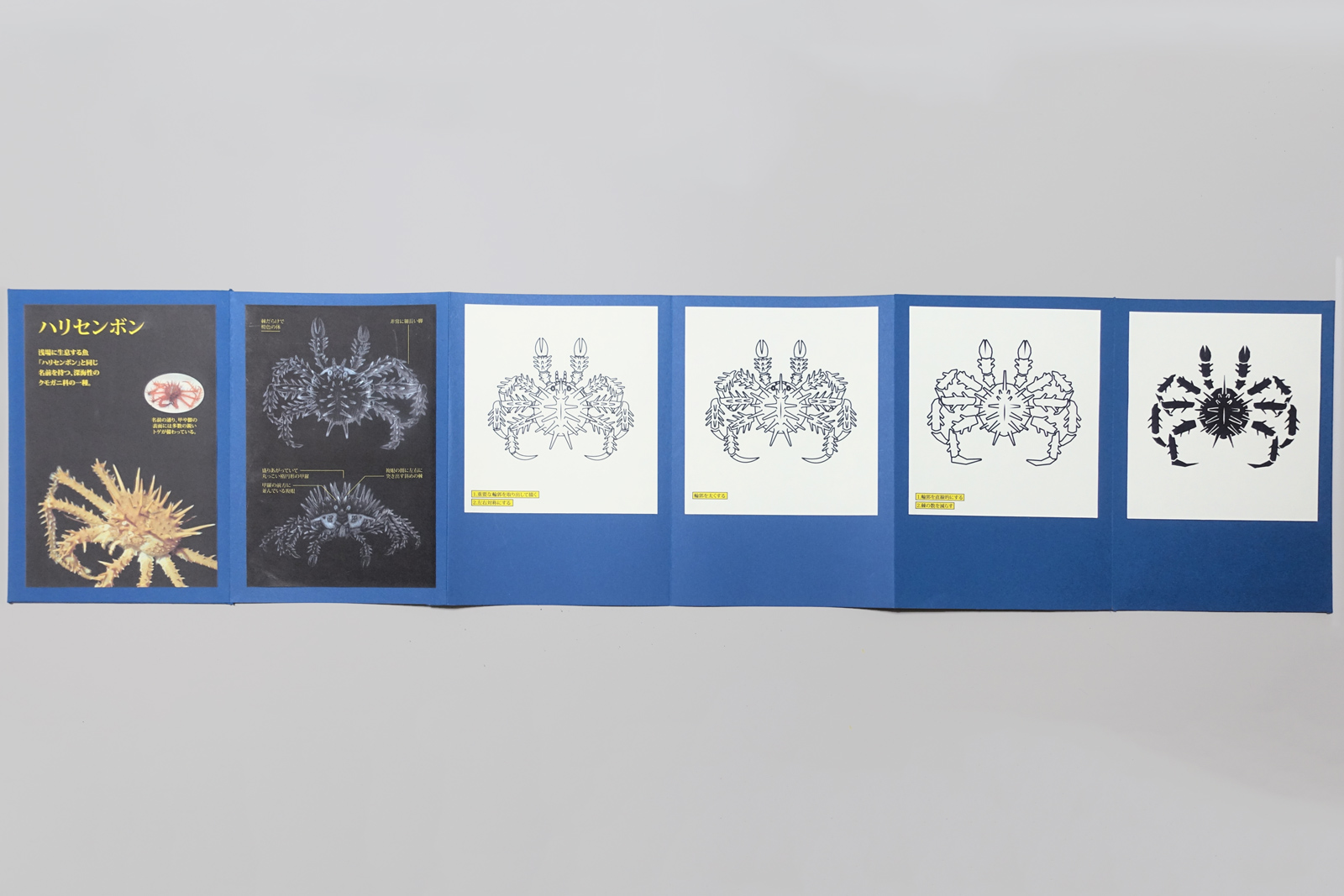 Sketches using white charcoal on black paper.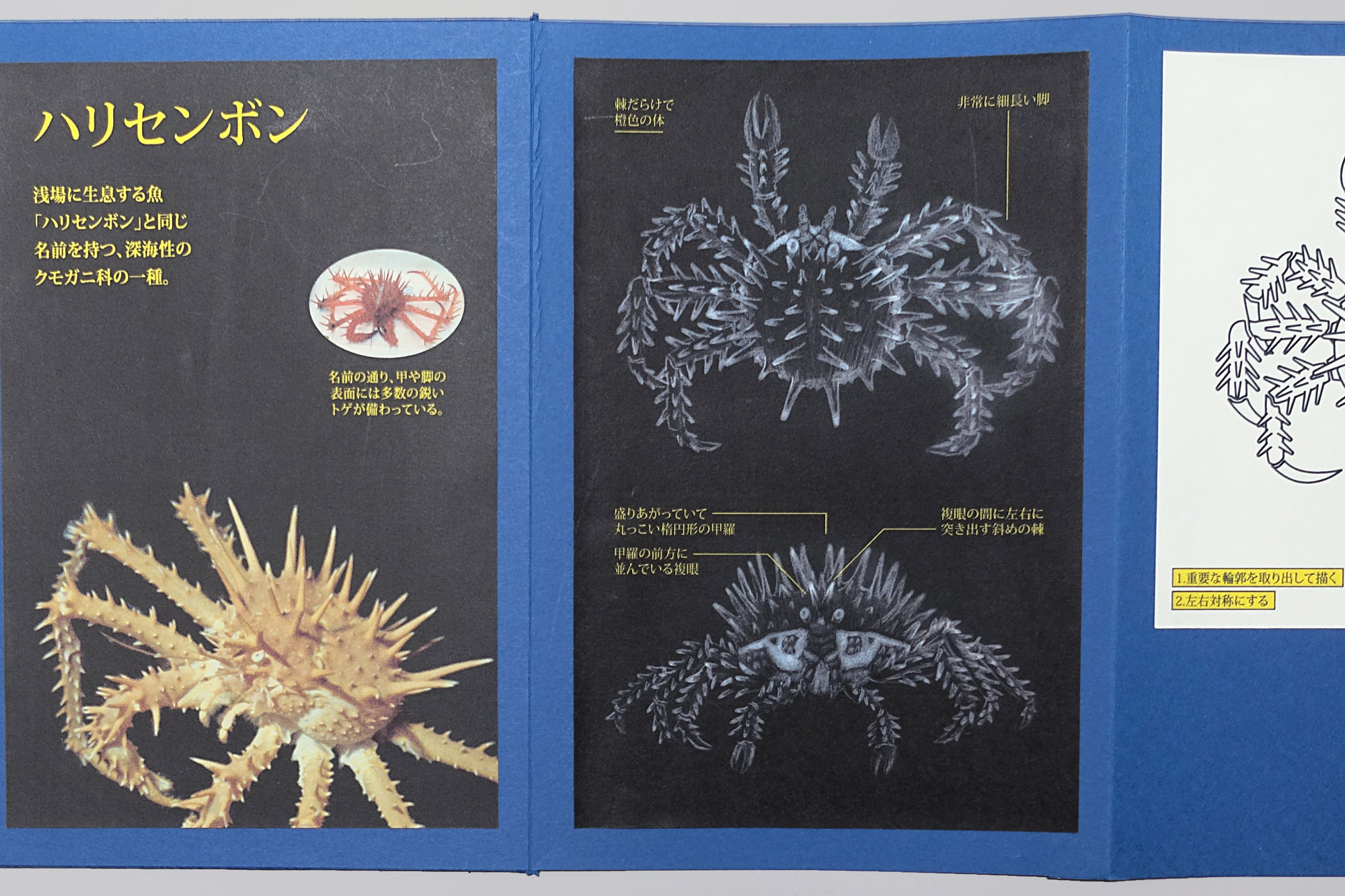 #2 Angler Fish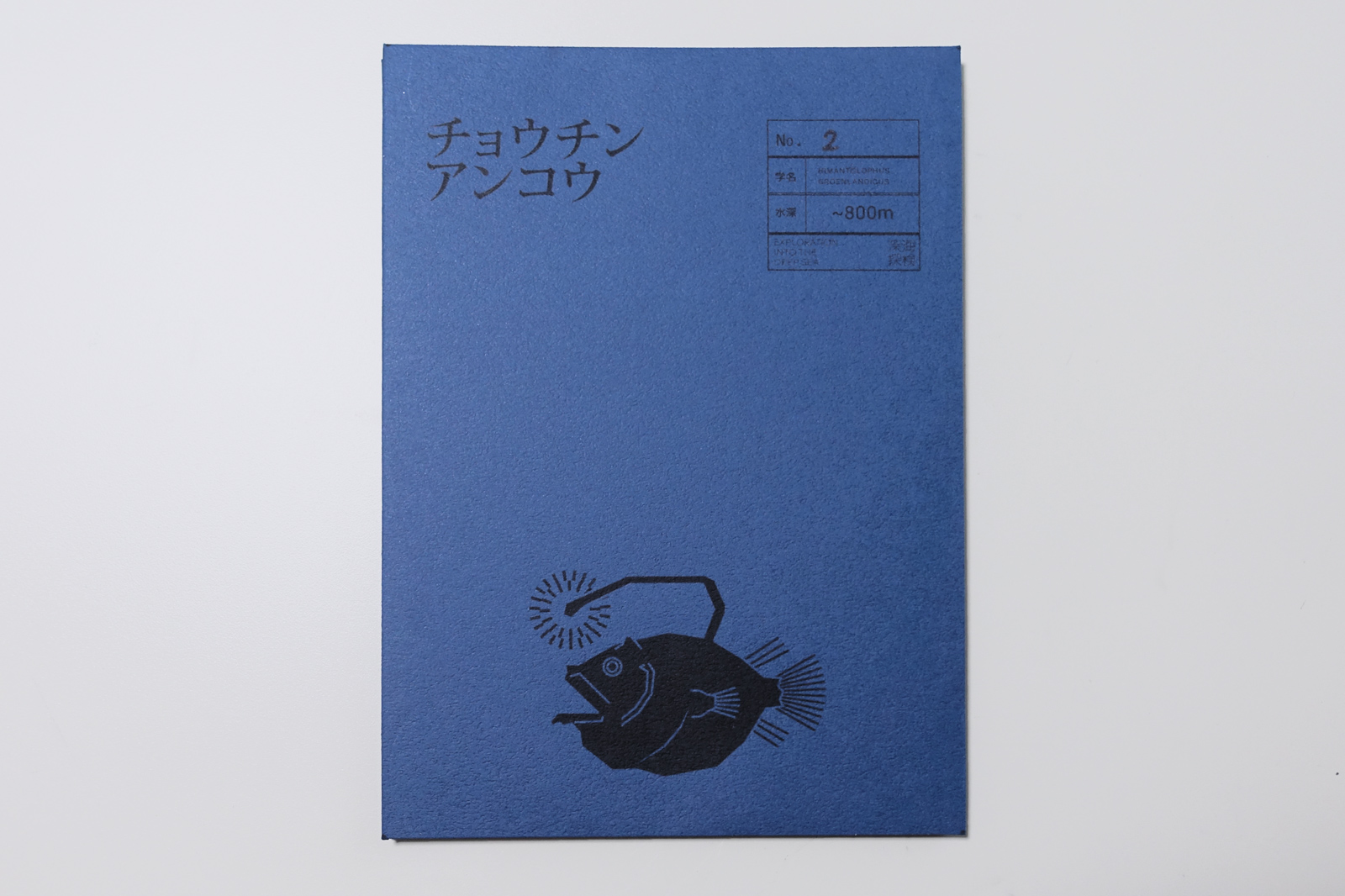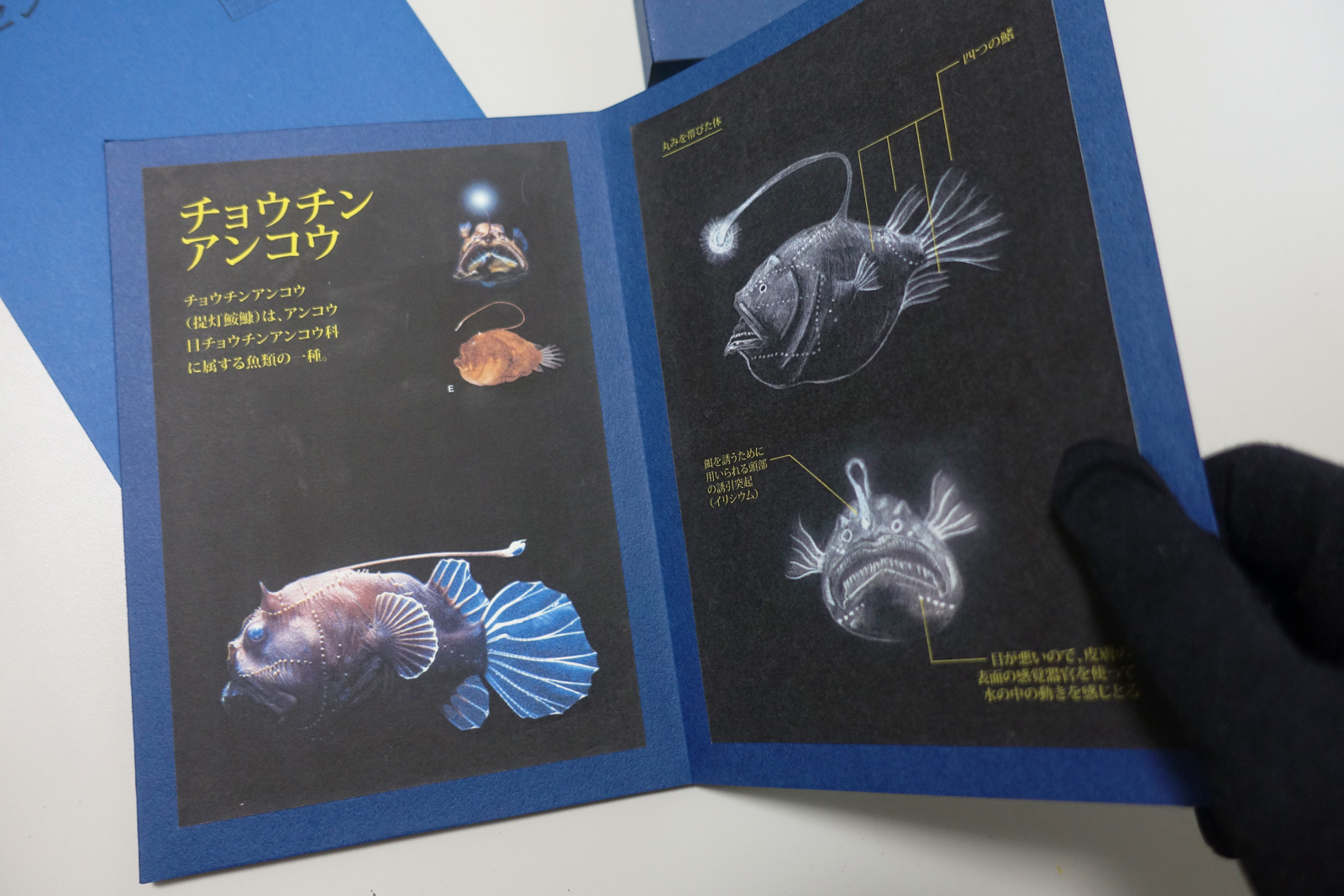 #3 Vampire Squid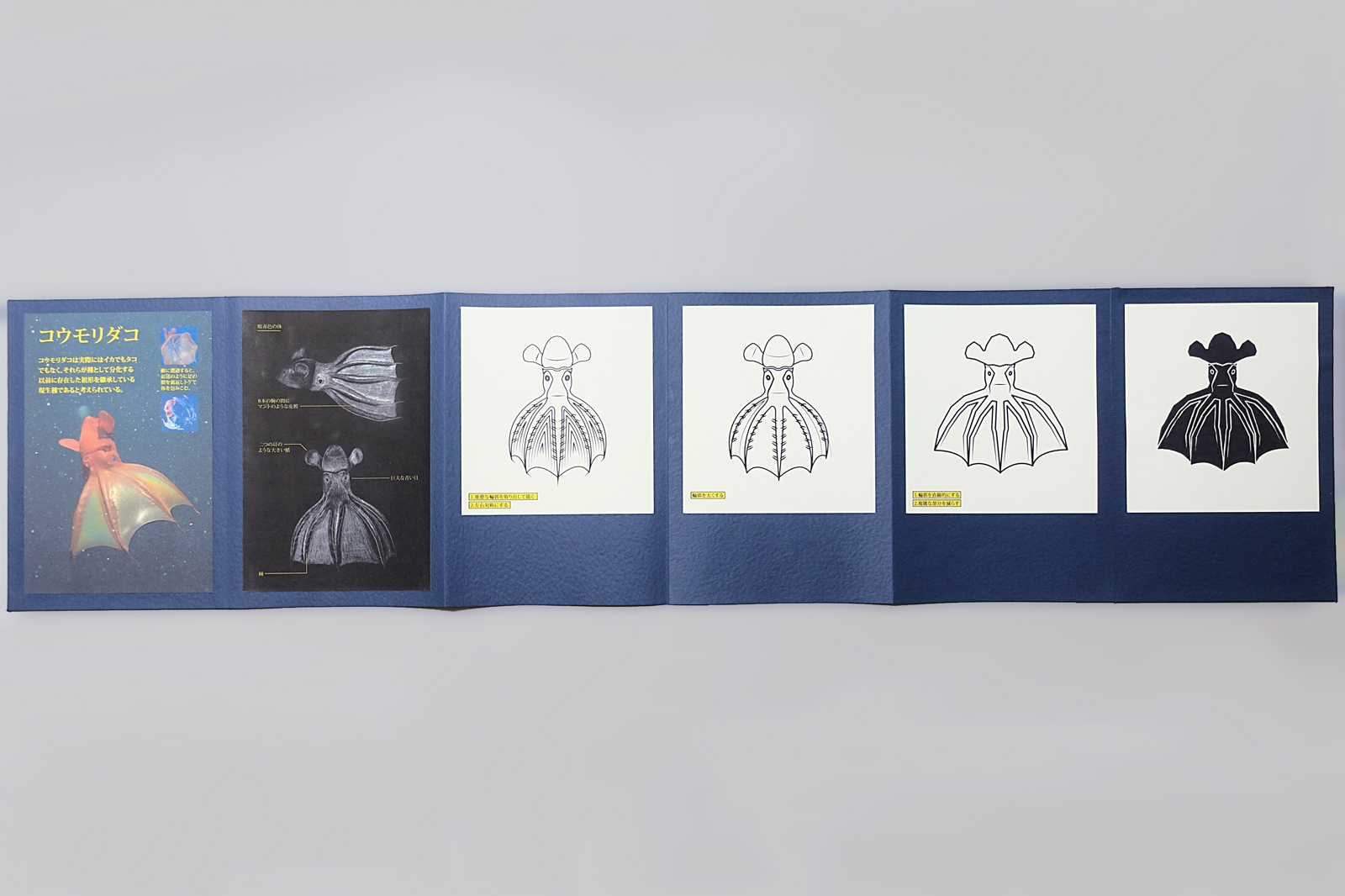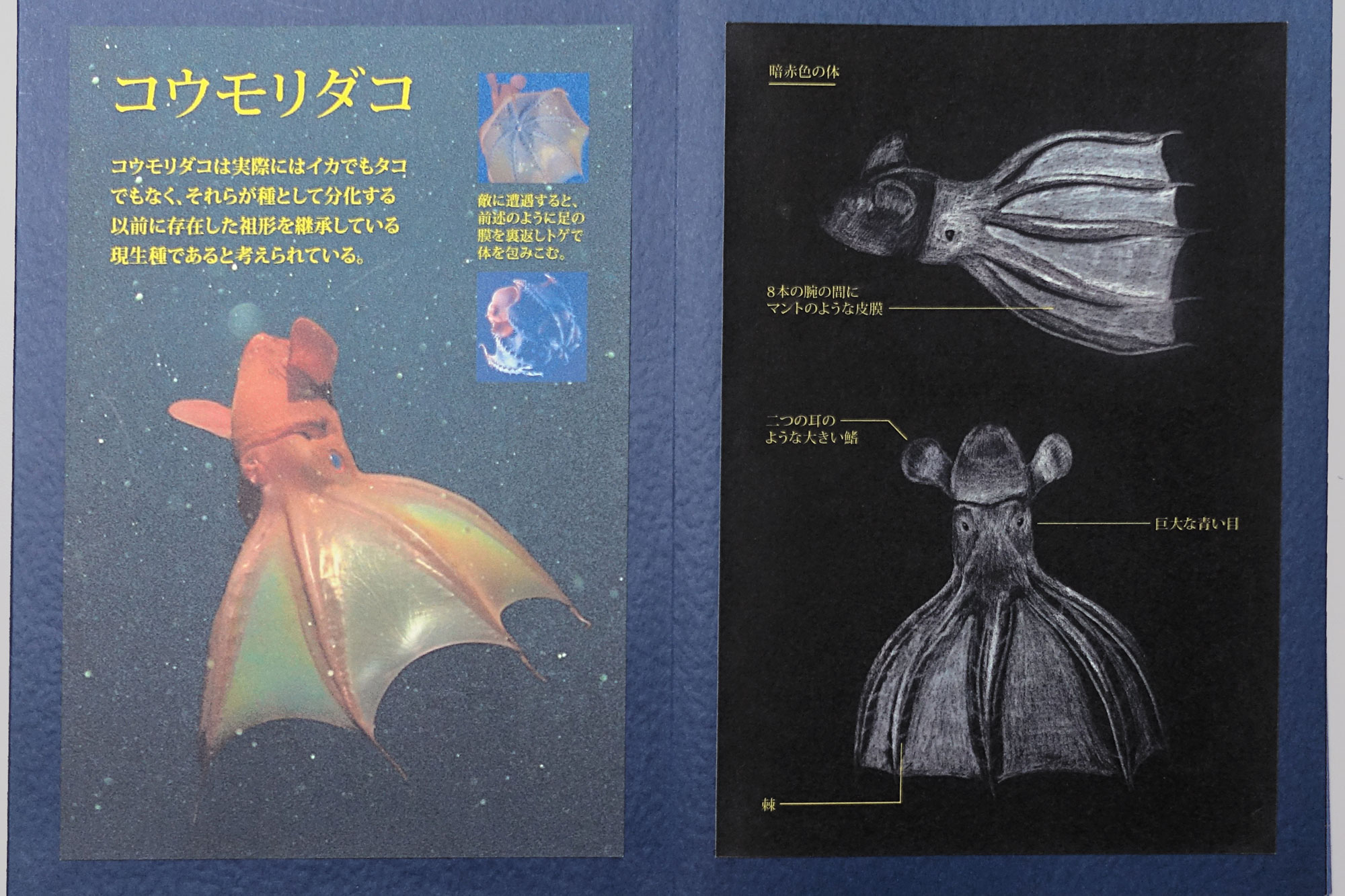 #4 Frilled Shark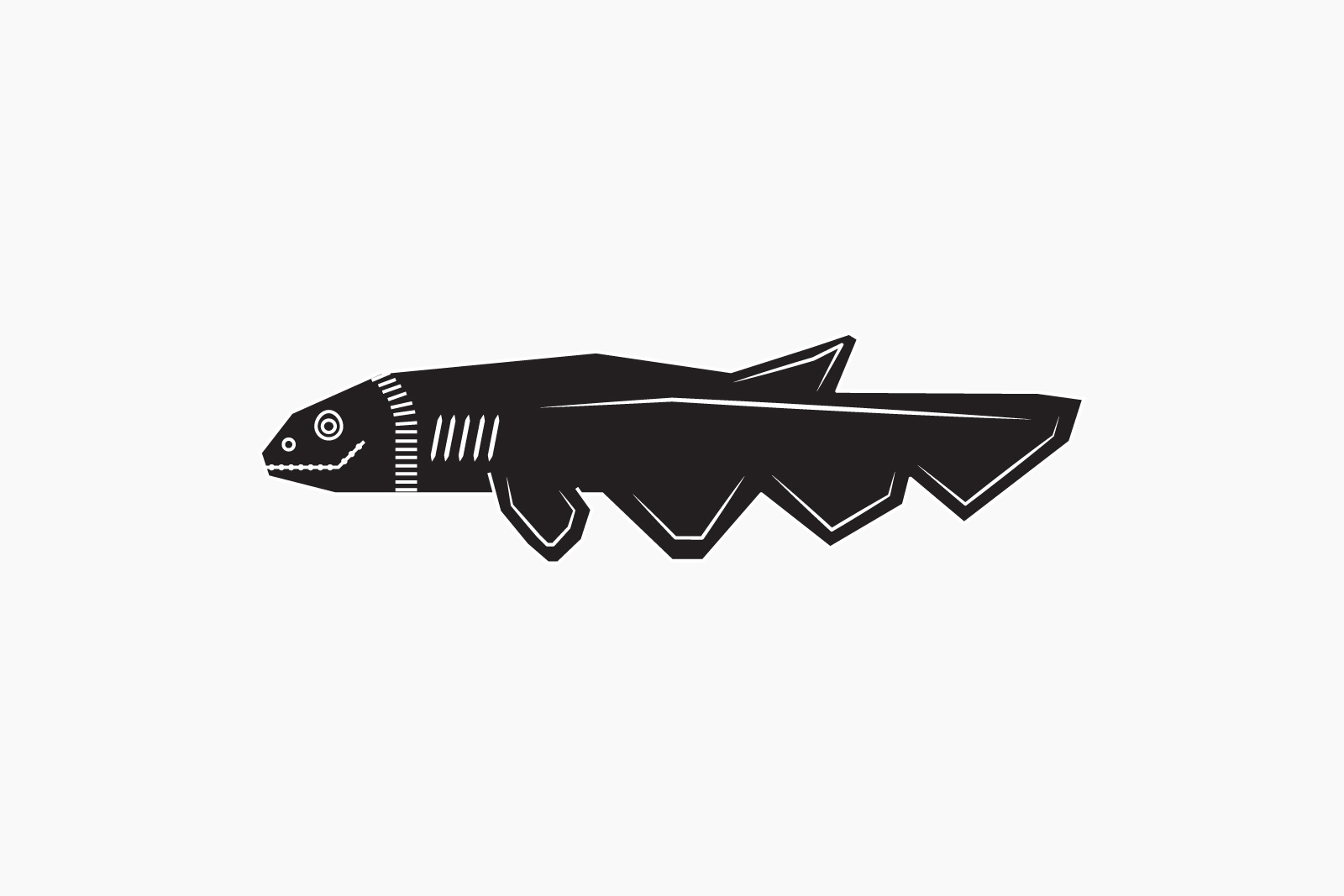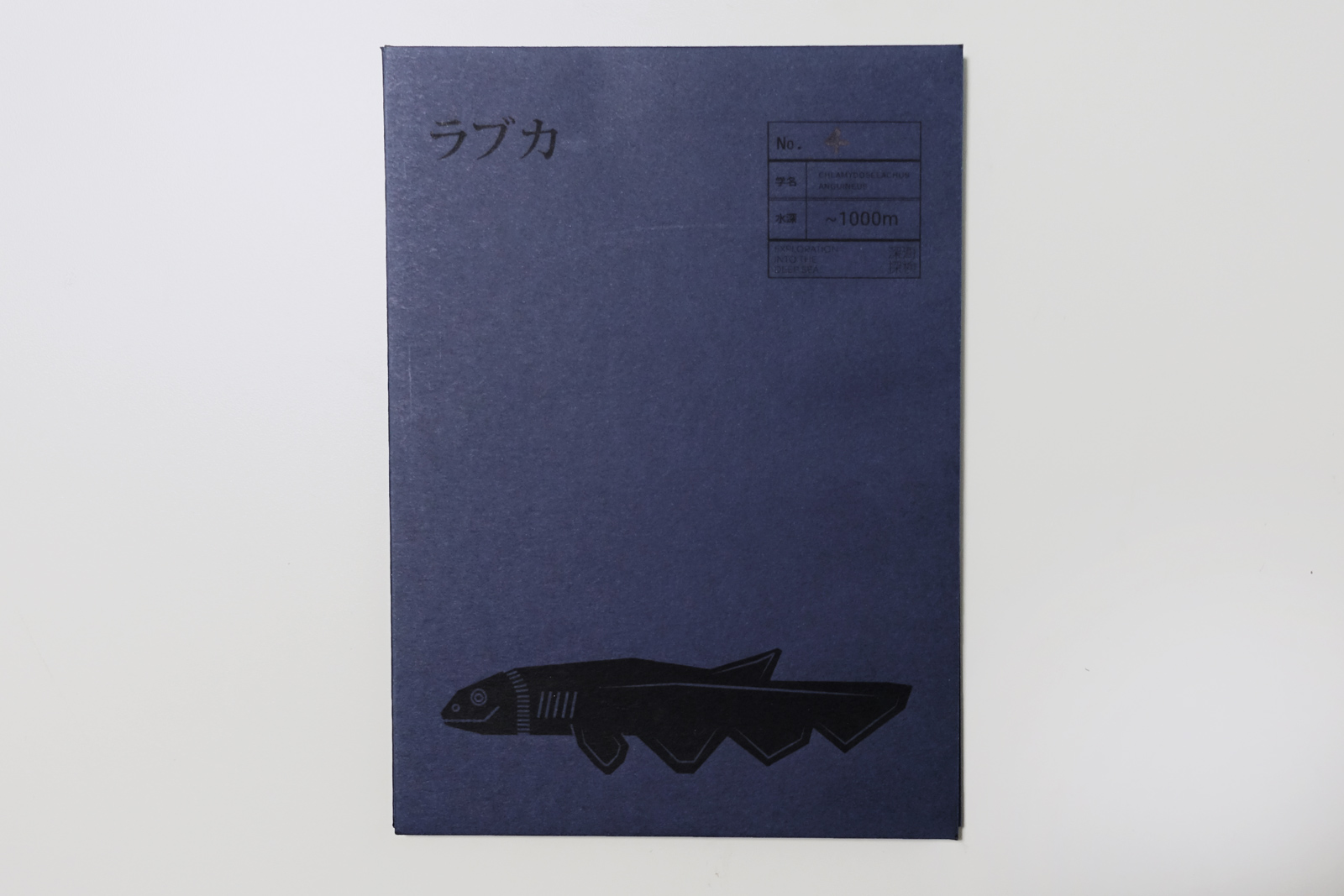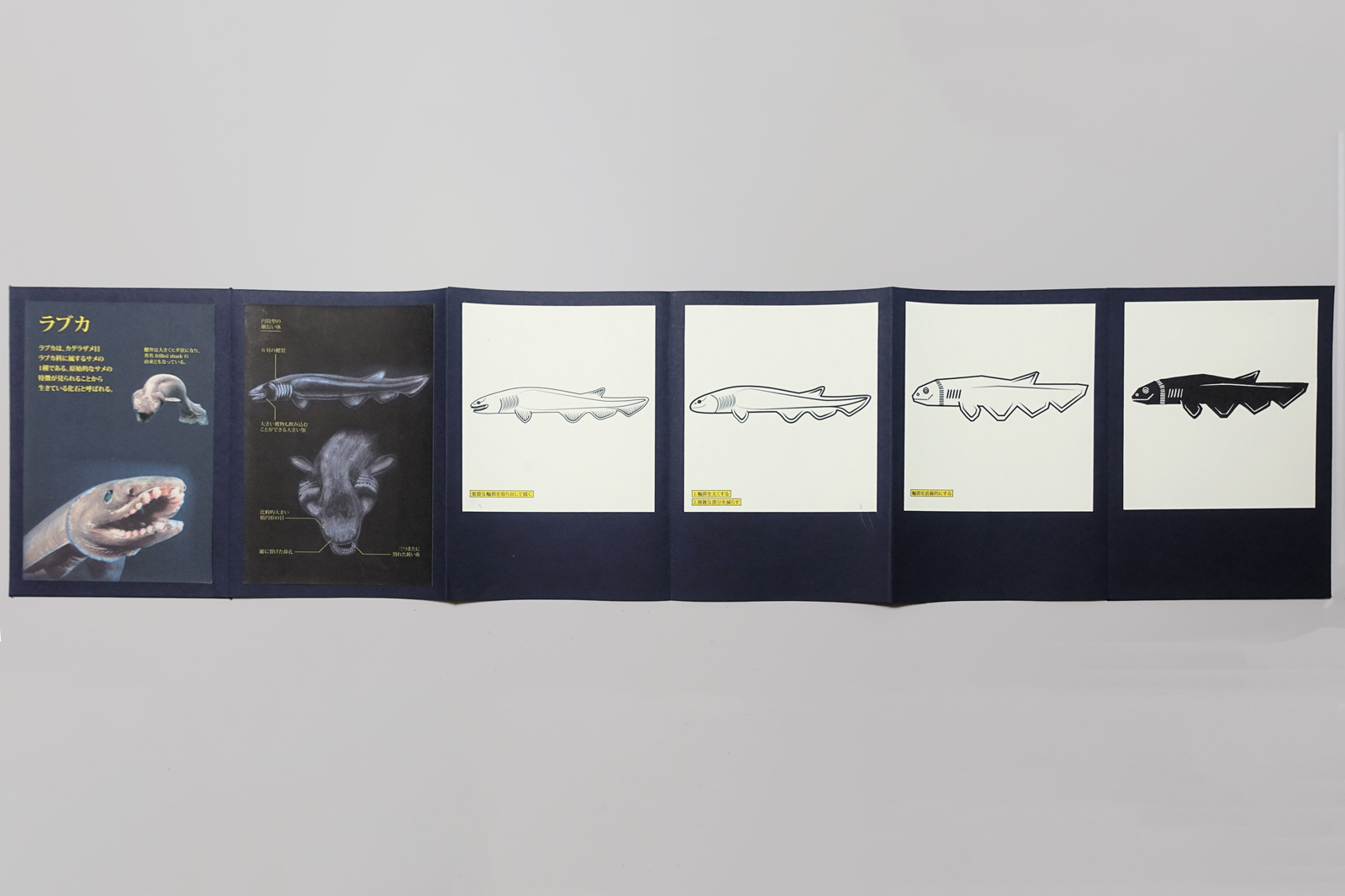 ---
Despite it being 4 different categories and species of deep sea creatures, what they have in common is that they are each often referred to as "Living Fossils" due to their biological features that remained very much unchanged since prehistoric times. Therefore, solid silhouettes bearing similarities to fossils are applied. They also help the symbols to be recognised and seen clearly when printed in small sizes, as opposed to complicated curves.
この4生物の共通点は「生きている化石」と呼ばれていることだ。古代からあまり変わらない特徴がたくさんあるのがその理由だ。「化石」のテーマに沿って、シンボルの輪郭は全て直線的にしていった。そうすることで、小さく印刷された時、よりはっきり見え、認識しやすくなる。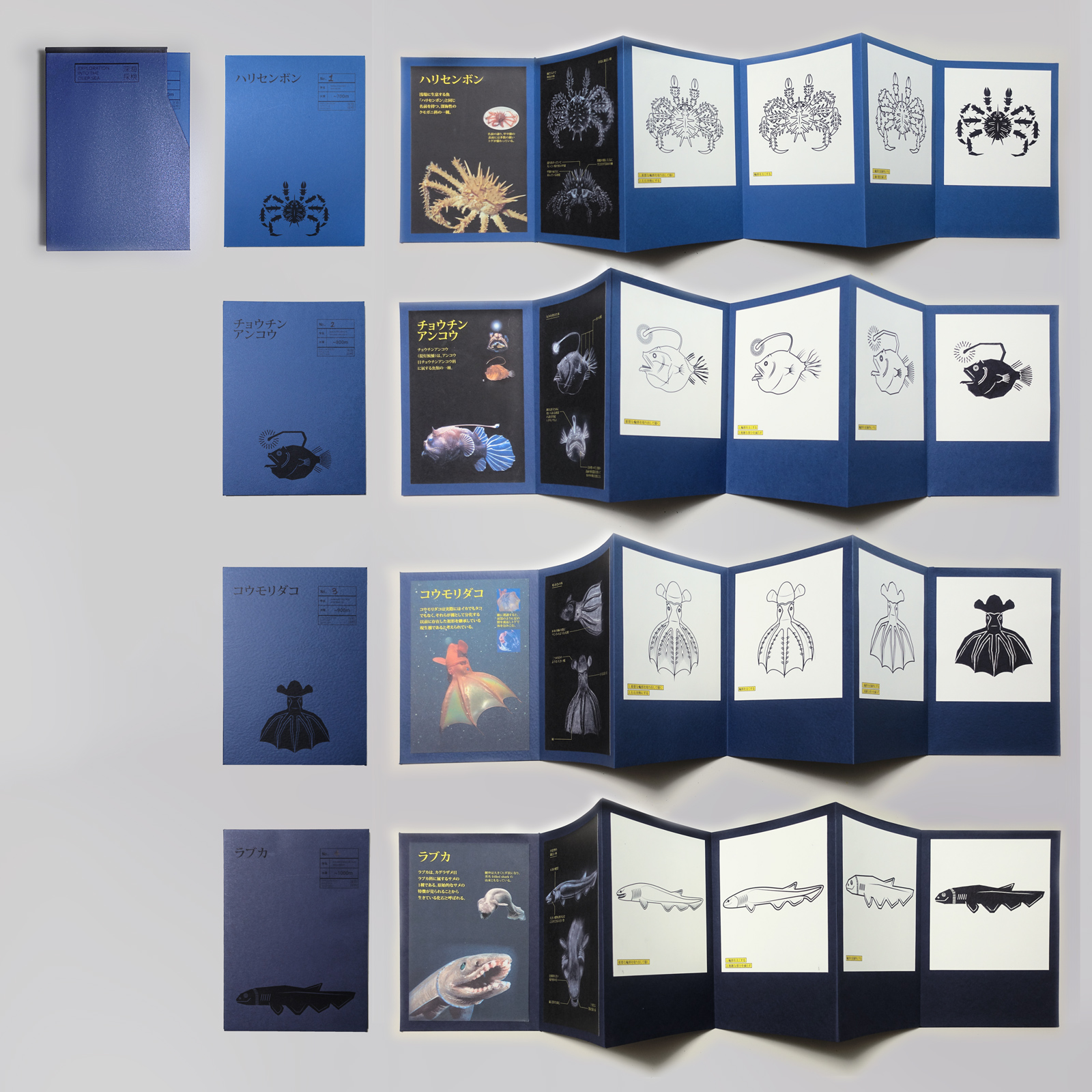 ---
&nbsp