Pretty in Pink. (2016)
Mentor: Patrick Gan. Designer: Shannon Teoh 
Client
Diamond & Jewelry / Commercial / Brand Identity & Advertising
Mediums
Typography, Graphics, Photography, Videography, Motion Graphics, Namecard, Stationery
プリッティー・イン・ピンク
指導者 パトリック・ガンデザイナー シャノン・テオ フォトグラファー シャノン・テオ 
クライアント
Gordon Max & Co. Pte Ltd/ 商業プロジェクト / ブランドデザインと広告

媒体
タイポグラフィ, グラフィック, 写真、ウェブ、映像、SNS名刺、ツールデザイン、インテリア、製本、パッケージ、モーショングラフィックス
Synopsis / Introduction
Gordon Max launched a new ring for Valentines' Day. Using the fact that the ring prides itself on its pink cultured diamond, the tagline "Pretty in Pink"took cues from the cult movie. Besides the asymmetrically channel-set pink diamond, a point to show about the ring is the subtle heart shape side profile. From the unique positioning of the posters to the side animation of the video, a whole set is used to exude the charms of these rings.
紹介
バランタインの新作品は不均整の心の形で設計したピンクダイヤの指輪である。
「Pretty in Pink」という標語はピンク色のダイヤに自慢して、同じ名前のカルト映画から由来するもの。指輪ははさみ留めでセッティングして、ワイトゴールドとピンクゴールドの素材で二つのデザインが作った。
正面の心の形と側面のピンクダイヤが見られる位置で、この二つの指輪はペアを組んで、一つの大きいハートになっていた。この概念通して、ポスータを始め、SNSや広告動画が生み出した。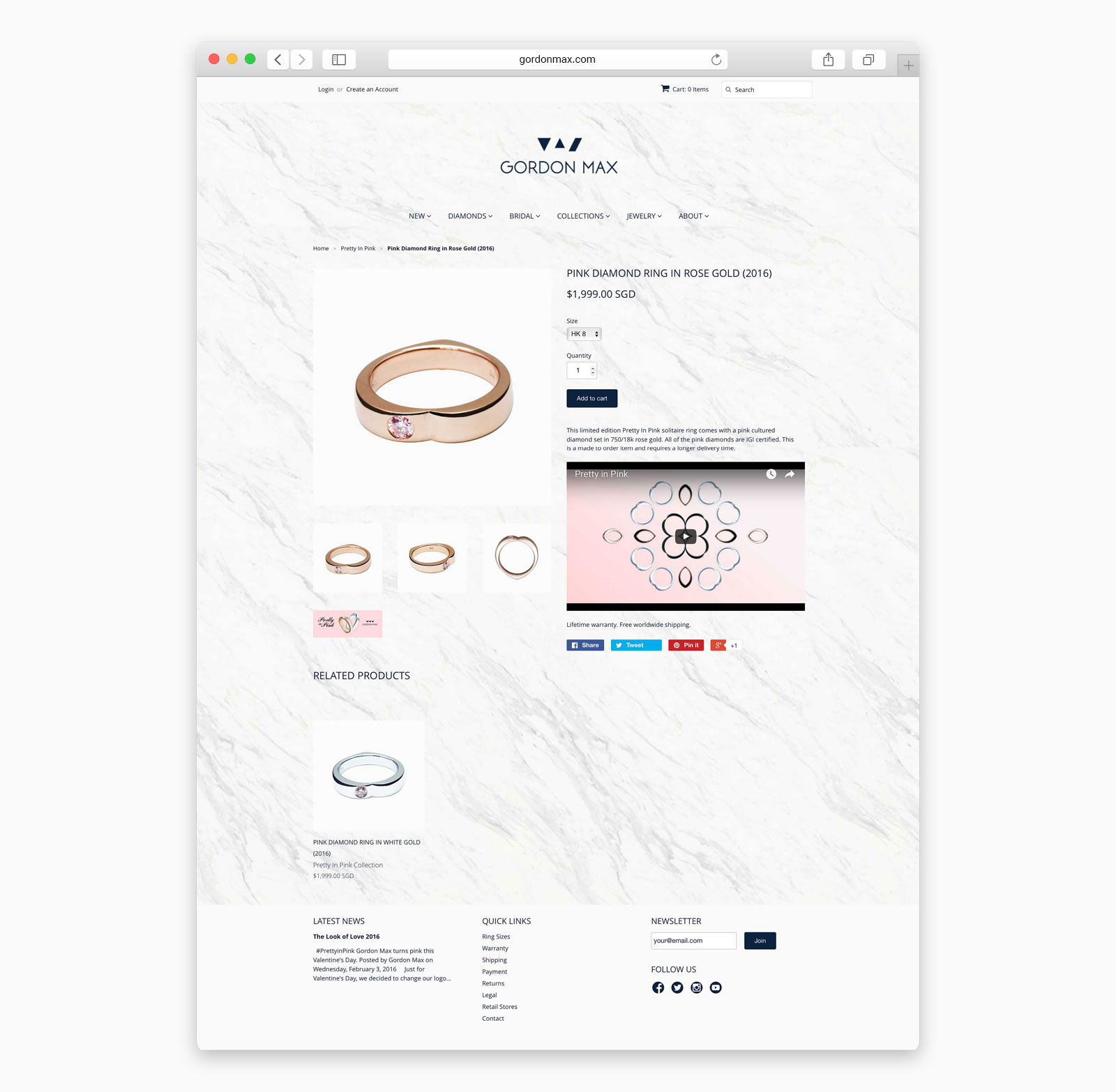 &nbsp
A brand is as interesting as the people behind it; This is evident in Gordon Max as it turns towards love in the Valentines' season.
&nbsp
---
DISCLAIMER☞This project is partially commercial work done long ago & partially self-initated work combined into a set. Hence the work here does not reflect that of the actual company.
&nbsp