&nbsp
Galaxie Glamour (2016)
Mentor: Patrick Gan. Designer: Shannon Teoh 
Client
Diamond & Jewelry / Commercial / Advertising
Mediums
Typography, Graphics, Photography, Videography, Motion Graphics, Social Media, Website
ガラックシ・グラムー
指導者 パトリック・ガン デザイナー シャノン・テオ フォトグラファー シャノン・テオ
クライアント
Gordon Max & Co. Pte Ltd/ 商業プロジェクト / ブランドデザインと広告

媒体
タイポグラフィ, グラフィック, 写真、ウェブ、映像、SNS名刺、ツールデザイン、インテリア、製本、パッケージ、モーショングラフィックス
&nbsp
Synopsis / Introduction
Assigned to advertise a collection of 4 simulated diamonds of different shapes, inspiration was drawn from the name, the Galaxie Collection. With scintillation like that of stars, the concept is about showcasing the diamonds as precious stars that fell from the distant galaxy. The art direction of the advertisement draws on a retro sci-fi vibe like those from the Daft Punk era. A main short video introducing all 4 diamonds is accompanied by 4 simpler individual product videos.
紹介
「ガラックシ(銀河)・コレクション」という四種類のダイヤモンドのセットを宣伝する広告プロジェクトである。
名前をインスパイアされて、SFのテーマで、 ダイヤモンドの優しい虹色の光沢は流星のように現れた。Daft Punk時代のようなレトロなSFのスタイルはインスタやフェスブックでポスターや動画広告をデザインした。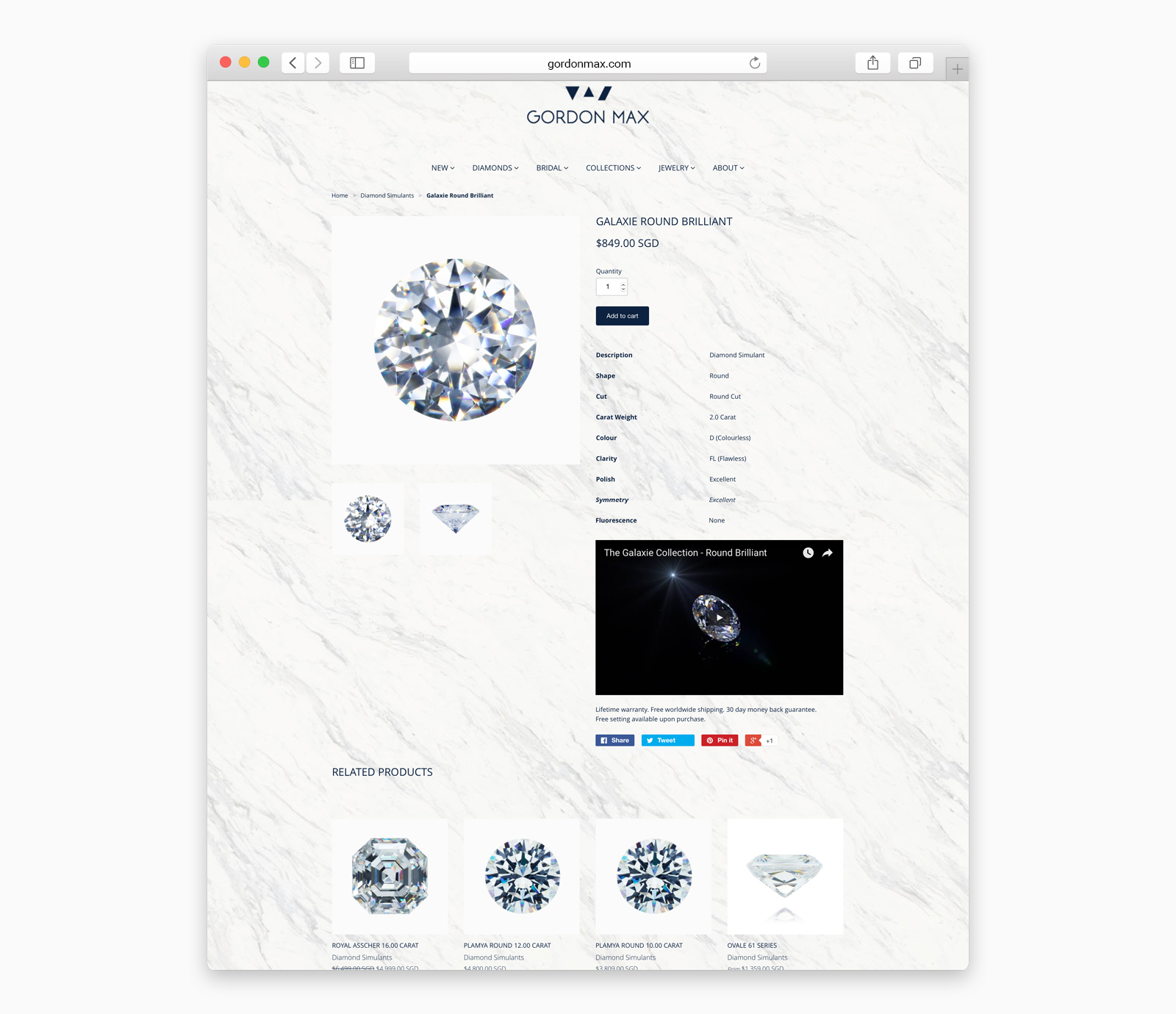 ---
DISCLAIMER☞This project is partially commercial work done long ago & partially self-initated work combined into a set. Hence the work here does not reflect that of the actual company.
&nbsp